Kim M.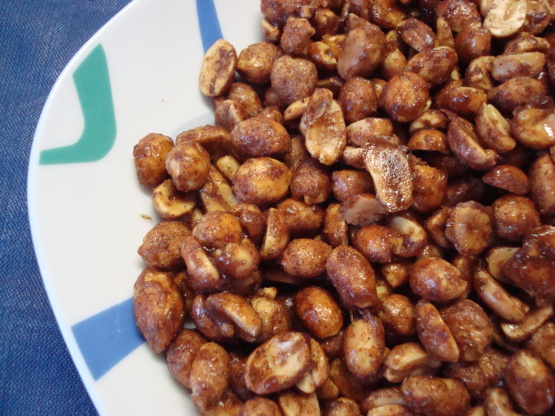 This is a TOH recipe. It is like a toffee spiced taste. I'm making these for CHRISTmas gifts.

You know what I like most about this recipe - the coating does not overwhelm the peanuts. You get a nice even coat on the peanuts but not clumps of the sugar where you feel it is too sweet. The background flavor is perfect and the recipe is spot on in directions...very easy to follow. Makes for a great treat around the house and great little gifts in a tin for friends. Thanks for sharing. Made for the Let's Party event 2010.
In large bowl, combine sugar, butter, corn syrup, cinnamon, salt, and nutmeg. Add peanuts, toss to coat. Transfer to 15x10x1 inch baking pan.
Bake at 300 for 20-25 minutes or until bubble and golden brown, stirring once. Be sure to keep an eye on these. Cool on wire rack; break apart if necessary. Store in an airtight container.