Toffee Cake With Caramel Sauce
Debber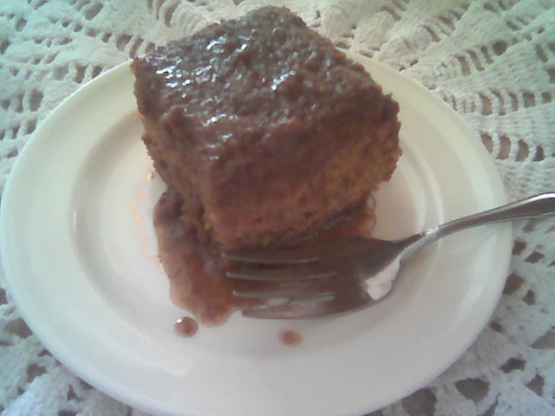 If you need a "date" for Valentine's Day or to feel "rich"...then this is the recipe for you! Whooeee! Pureed dates lend such a richness and depth to this dessert, while the rum gives it a "grown-up" kick!

This is absolutely delicious! I used the apple juice instead of the rum because I had some in the house and it may have been a bit overly sweet for me (and I love sweet so that's saying a lot). Even with a kid in the house I think next time I will make a trip to buy the rum and see how that changes the recipe. My sauce thickened a bit upon standing so next time I will wait until it cools slighty before I drizzle the cake with it. The dates make the cake so moist and add a delicous flavor and if you didn't know what was in it you may not be able to guess the ingredient! My 7 year old ate his piece in a matter of seconds and came back in the kitchen to let me know how much he like it. Will definitely make again!
Butter an 8- or 9-inch square pan; set aside.
Put dates, rum and water in a small saucepan over medium-high heat; bring to a boil, stirring frequently, then reduce heat and simmer until dates are soft (about 5 minutes).
Puree dates in a blender or food processor; let cool 15 minutes.
Preheat oven to 350°F.
While your "date" is cooling his heels (hahah), in a medium bowl, stir together flour, powder, salt, cinnamon and soda; set aside.
In another bowl, cream butter and sugar until fluffy, then add eggs (one at a time).
Reduce mixer speed to low, alternate adding flour mixture and pureed dates.
Pour batter into prepared pan, smooth top, then pop into the oven; bake for 25 minutes (set the timer).
At end of 25 minutes, turn heat down to 325°F and bake an additional 15-20 minutes. Cake tester should come out clean.
Cool in pan on wire rack for 5 minutes (set the timer).
Run a knife around the edges of the pan to loosen; place a large serving plate over the top of the pan, invert the pan/plate.
Make the sauce: In a medium saucepan, combine cream, brown sugar and butter.
Over medium-high heat, bring to a boil and cook for 3 minutes, stirring constantly. Add the remaining rum, cook 1 more minute.
Pour warm sauce over cake.
SUBSTITUTIONS: To make this more kid-friendly, substitute water or apple juice.