Dawnab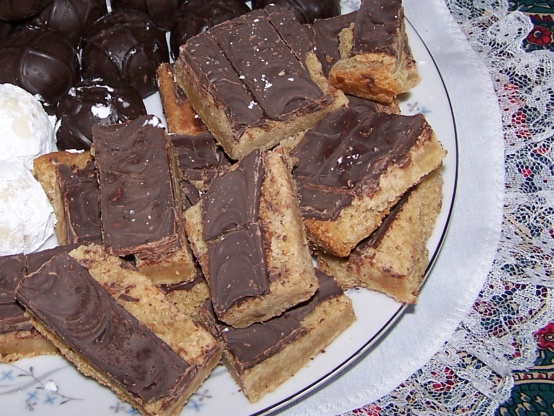 These are really easy, but they get raves every time.

Erin, This looks like the recipe that I have been serching for -- THANK YOU for posting it. I'll try it and let you know. A friend or mine has been making something similar for the holidays for the past 8 yrs. My husband & I love it. BUT she wont give us the recipe -- I thought after the 60's everyone started sharing recipes. Oh well. I hope your recipe is as equally wonderful as my unwilling to share friend. thanks again!
Mix all ingredients (except chocolate chips) with hands until it forms a dough.
Pat into bottom of a 9x13 pan.
Bake at 375°F degrees for 25 minutes.
Sprinkle with chocolate chips.
Cover pan with a larger bread board to keep the heat inside.
Spread the chocolate when it has melted.
Cool completely before cutting.