vrvrvr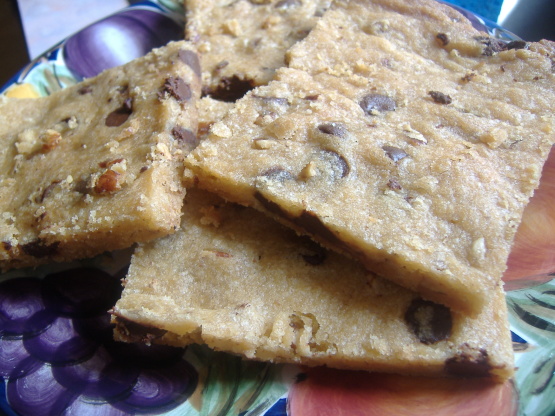 My family makes this every Christmas!

Top Review by vrvrvr
These easy-to-make bars received mixed reviews. The baker of them was disappointed; the eaters thought the bars were pretty good. My daughter watched them carefully in the oven and removed them before the allotted bake time, so that they wouldn't become hard, but she thinks they are much too brittle and flat. The taste is good, however it could probably benefit from a little salt. I might try wrapping them in plastic to see if that softens them a bit.
Thoroughly cream together margarine, sugar and vanilla.
Add flour, mix well.
Stir in chocolate chips and walnuts.
Press mixture into ungreased 15 1/2 x 10 1/2 x 1 jelly roll pan.
Bake at 350* for 25 minutes or until browned.
Over baking will make it hard.
While still warm, cut into bars.
Cool before removing from pan.