WiGal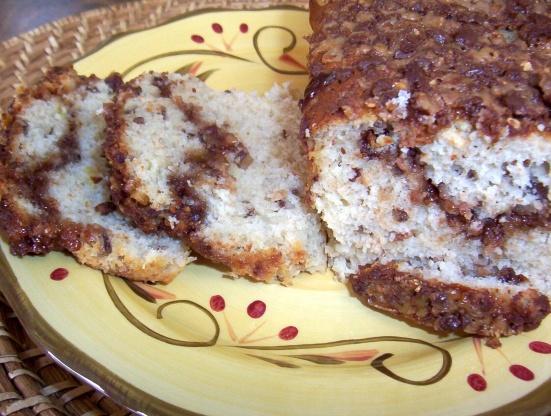 Yum, Yum, Yum, Yum! My kids don't like the rum flavoring so I have omited it for them, but when I make it for myself or others, I will leave it in. The amount of toffee pieces is equal to an 8 ounce package of toffee pieces. Found this on the Hershey's website some time ago when I was trying to find a recipe for banana bread.

Loved this different take on plain old banana bread! I used Captain Morgan's for the rum, and I chopped up the last of a canister of praline mixed nuts for this (I had just enough left, so I figured I'd use those up instead of opening a new bag of nuts). My breads were still pretty liquid in the center at 35 minutes, so I kept them in for an extra 10 minutes or so. In hindsight, I probably should've divided the bottom and top batter a little more evenly, but only for appearance (the middle toffee layer and the top toffee layer blended into one on one of my breads, which wasn't as pretty as the other with distinct layers when sliced). No matter what the breads looked like, they both tasted wonderful! Thanks for posting! Made for PAC Spring '12
Heat oven to 350 degrees. Grease and flour two 8 1/2x4 1/2x1/2 inch baking pans.
In large bowl, stir together flour, sugar, baking powder and salt. Add milk,oil, rum, egg and banana; stir with spoon until well blended. Stir in nuts.
Spread 1 1/4 cup batter into bottom of each prepared pan. Top each batter with 1/2 cup toffee bits. Gently spread about 1 cup remaining batter into each pan. Sprinkle remaning bits over batter.
Bake 30 to 35 minutes or until wooden pick inserted into center comes out clean. (Bread will have slight sink in center.).
Remove from oven to wire rack. With knife, loosen bread from sides of pan. Cool 10 minutes; remove from pans. Cool completely.