Toffee Apple Turnover Pie
Katzen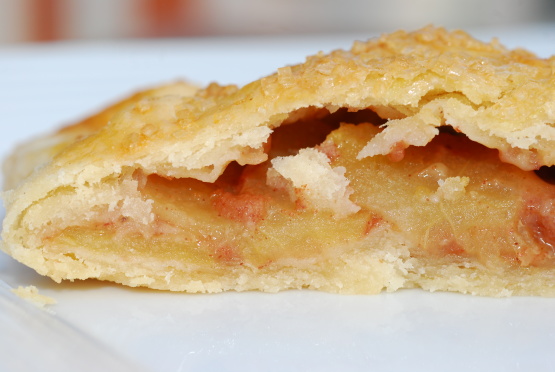 a nice dessert given to me by my mother that I made tonight.

I also used a premade crust. Because it came in a roll, it was easy to cut in half and make two smaller pies, which was more practical for me. I misread the amount of toffee bits, so this was not sweet enough for me - even though my apple was a tart-sweet variety. The one thing that I did not like was that there was a bit too much crust on the edges - that might have been to my admittedly inept technique with pie crust. This is a great idea for a smaller pie for smaller households.
Heat oven to 375 degrees.
Line cookie sheet with sides or a 15x10x1 inch pan with cooking parchment paperor foil.
In a medium bowl, mix 1 cup flour and salt.
Using pastry blender, cut in shorteninguntil particles are size of small peas.
Sprinkle with cold water, 1 tablespoon at a time, tosing with fork till all flour is moistened and pastry almost leaves sides of bowl.
Gather pastry into bowl.
On a lightly floured surface, shape pastry into flattened round 12 inch circle.
Using rolling pin, roll into 12 inch round, about 1/8 inch thick, and place on cooking sheet.
In a medium bowl, toss apples, and 1 tablespoon flour.
Mound apple mixture on half of pastry, to within 3/4 inch of edge.
Sprinkle with toffee bits.
Fold 1/2 inch of sealed edgeof pastry over, and firmly press tines of fork arounf edge to seal.
Brush top of turnover with egg.
Cut 3 slits 1 inch long, in top to vent steam.
Sprinkle top with sugar.
Bake 30-40 minutes or until golden brown.
Immediately remove from cookie sheet to serving plate.
Cool 30 minutes before cutting.