Toffee Apple Tart Rustica
PaulaG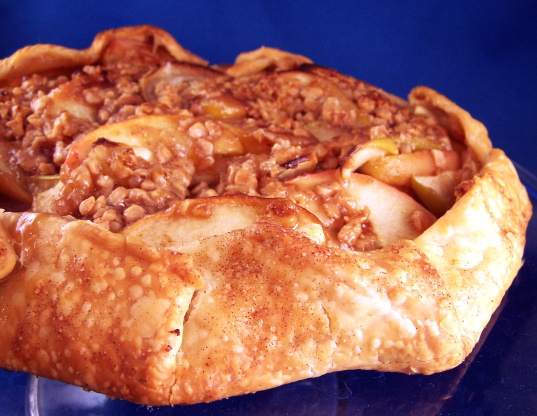 This recipe was given to me by a friend in Dallas, TX. It is delicious and makes a most impressive presentation.

Top Review by awalde
Paula your Tart is beautiful and fabulous! I did have any problems with the preparation.
I used:
Crust Recipe #28943 #28943 (half quantity)
Tasty apples from the garden.
Swiss chocolate toffes.

To preserve the fresh color of the apples I dip the slices in salted water (1 teasopoon in 2 liter water) and I drain them very well before use.

Prepared for Healthy Choices ABC.
Preheat oven to 425 degrees.
Line a large cookie sheet with parchment paper, press out fold lines on crust and place on paper.
In a large bowl, combine the apples, toffee bits, 2 tablespoons sugar, flour and mix well.
Spoon apple mixture evenly onto crust to within 2 inches of the edge.
Fold edge of crust over apples, pleating to fit; drizzle the cream over apples; brush edges of crust with water and sprinkle with sugar.
Bake for 20 minutes, then reduce temperature to 350 degrees; continue to bake 5 to 10 minutes longer or until crust is deep golden brown and apples are tender.
Remove from oven and immediately run spatula under crust to loosen and move to wire rack.
Allow to cool slightly, cut into 8 equal servings and enjoy.