ChefLee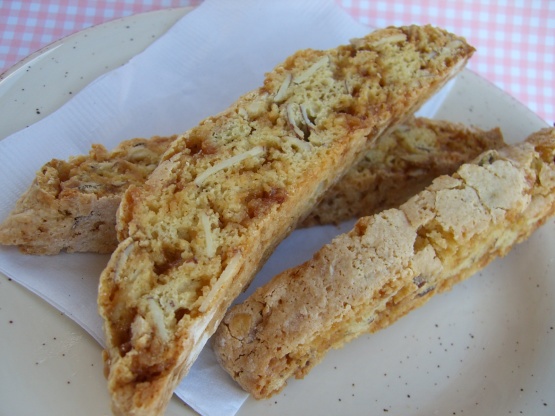 We love biscotti of all kinds. Haven't tried this yet. Putting it here for safekeeping.

Why buy store bought biscottis that are hard and tasteless when you can make a batch in about an hour. These are the best ones I have made so far, I just tweeked it to my taste. I added macadamia nuts and extra vanilla instead of almonds. Made them on Friday afternoon and we ate our last ones on Monday morning before we left for work
Preheat oven to 300 degrees F.
Line cookie sheet with parchment paper; set aside.
In a medium bowl, whisk together flour, baking powder, salt, sugar, almonds, and toffee bits; set aside.
In a large bowl, beat together eggs, Amaretto, and vanilla extract with an electric mixer.
Mix in dry ingredients with eggs, mix until combined. Dough will be sticky, but do not add more flour.
Flour surface of parchment paper lined cookie sheet, roll dough out on surface into a log about 3 inches in diameter.
Bake about 50 minutes, or until firm and dry.
Remove from oven and let cool for 10 minutes.
Use a serrated knife and cut into 1/2-inch slices.
Lay slices cut side down on cookie sheet and return to even for 20 minutes.
Remove from oven and turn slices over and bake another 20 minutes.