Todays Special (chicken With Swiss Cheese and Wine)
Rayndrop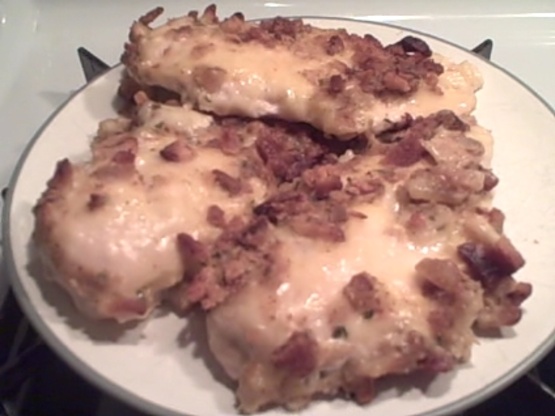 This recipe is adapted from an old battered, torn, and beloved cookbook of mine. This dish is simply delicious. While it is simple to make, I think it is elegant enough for company. My family loves this one!

Simple dish. A little bit salty. I would put 2 thick slices of swiss on top of chicken, instead of just 1. I'll bet the leftovers will taste better tomorrow when the wine flavor sinks in. The sauce at the bottom of the pan captured all the flavor.
In lightly greased baking dish, lay out chicken breasts.
Put 1 slice of swiss cheese on each breast.
Mix together wine and soup thoroughly.
Pour soup mixture over chicken evenly.
Spinkle stuffing mix over top covering all chicken.
Drizzle melted butter over stuffing.
Bake uncovered at 350 for 45 minutes.
Enjoy!