Toblerone-Topped Caramel Cheesecake
Redsie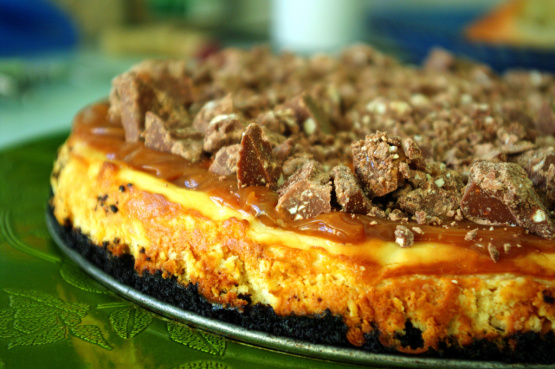 What a fantastic cheesecake!! I love chessescake and I must say this is one of my favorites - Enjoy!!

This is completely amazing. The texture and flavor of this cheesecake are simply stellar. Very dense and rich without being heavy. Incredibly smooth and velvety. I added some chopped pecans to the crust and baked for a few minutes before adding the filling. I used homemade caramel sauce with a touch of bourbon for the topping.
Heat oven to 350°F.
Mix crumbs and butter; press onto bottom of 9-inch springform pan.
Beat cream cheese, sugar and vanilla in large bowl with mixer until well blended. Add eggs, one at a time, mixing on low speed after each one until just blended. Pour over crust.
Bake 40-45 minutes or until center is almost set. Run knife around rim of pan to loosen cake; cool before removing rim. Refrigerate 4 hours. Spread caramel topping over cheesecake just before serving. Garnish with chopped chocolate.