Prep 10 mins
Cook 3 hrs 10 mins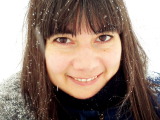 I'm a huge Toblerone fan. Every year, my parents give us each a 1 kg. bar as our stocking stuffers for Christmas. (So that they don't have to get any other little things -- nothing else fits in the stocking after that!) Here's another recipe for all you Toblerone lovers out there. Or fudge lovers, or chocolate lovers -- it's pretty universal!!!
118.29 ml sugar
118.29 ml butter
177.44 ml evaporated milk (NOT sweetened condensed!!!!!)
400 g Toblerone chocolate bars, broken into pieces
Directions
Line an 8-inch square pan with wax or parchment paper, with ends of paper extending over sides of pan; set aside.
Place sugar, butter and evaporated milk in large, heavy saucepan and bring to a full rolling boil on medium heat, stirring constantly.
Boil 5 minutes, continuing to stir constantly, and remove from heat.
Add chocolate and stir until completely melted. Pour into prepared pan.
Refrigerate 3 hours or until firm. Remove fudge from pan, using paper handles.
Cut into 25 squares. Store in tightly covered container in the fridge.
Reviews
Most Helpful
Mmm good! Made these for Christmas gifts and they were loved by everyone! Thanks!

This is the second time I have made this fudge so guess I better post a review. FANTASTIC!!! There, that ought to pretty well sum it all up. No, honestly, this is an excellent fudge and so easy to make. I usually cut the pieces quite small as it is extremely rich. Folks that have tried it absolutely love it and ask for the recipe. I will definitely be putting this fudge in the candy tins that will be given to friends this Christmas. Many thanks for this gem of a recipe.