Toasted Sunny-Side up Egg and Cheese Sandwiches
Kim127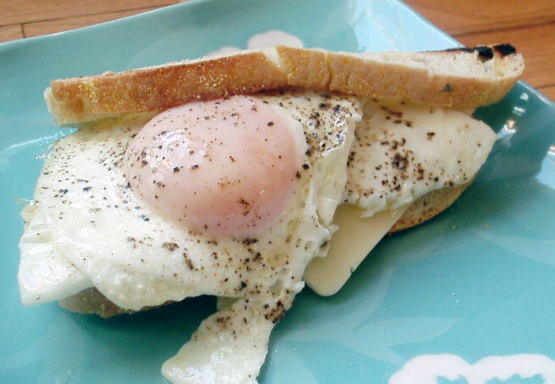 My DH loves these sandwiches, try to cook the egg until just slightly soft so the the yolk runs when you bite into it! The amounts listed are only a guidline you may adjust to taste, I usually use 2 eggs for one sandwich, throw a couple slices of bacon or a pork breakfast patty on also, *SOOOO* good! :)

I make this all the time. Never thought of posting it. It's a good one. Justine
1 -2

large egg (I use 2 eggs for one sandwich)
salt and black pepper (to taste)

2

slices whole wheat bread or 2 slices white bread

1 -2

tablespoon mayonnaise

1

slice American cheese
Toast the 2 slices of bread.
Butter one side of one piece of toast, then on the other slice spread with mayonnaise (use any amount of butter and mayo desired).
Place 1 slice of cheese over either the buttererd side or the mayo side.
Heat about 1-2 tablespoon butter into a skillet over medium heat.
Break eggs into the skillet, then season with salt and black pepper to taste.
Cover the skillet and cook eggs until cooked but leave the yolk semi-soft.
Place the cooked egg/s over the cheese on the bread and top with the remaining slice of toast.