Ms B.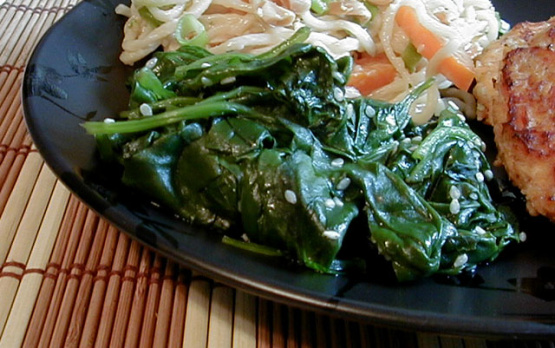 A versatile recipe from Martin Yan...any type of leafy greens can be substituted for spinach.

Fixed this the other night to go with Wasabi Salmon Cakes#63831 and Noodle Salad with Peanut-Lime Vinaigrette...delicious! I did use spinach, added two cloves of garlic and didn't use the full 1/4 cup vegetable broth but it was still wonderful. Thank you for a wonderful dish!
Place a large pan over high heat until hot.
Add oil, swirling to coat bottom. Add ginger; cook, stirring, until fragrant, about 10 seconds.
Add spinach and broth; stir once, then cover.
Reduce heat to medium; cook, stirring once, until greens are wilted, about 2 minutes.
Add sesame oil, soy sauce, and sesame seeds.
Toss to distribute seasonings and serve.