It's too hot to bake and I wanted something sweet. Taking my cue from the Bread Machine Applesauce Granola Bread that I had left and some peaches that needed using up, I built a fun and tasty dessert sandwich. Brioche or challah bread would probably work well as would other soft fruits. Experiment with what you have on hand. The results might surprise you!
4 slice bread, sliced 1/2 inch thick
29.58 ml cream cheese (use mascarpone if you have it)
1 ripe sweet peach, peeled, pitted and thinly sliced
9.85 ml sugar
freshly ground nutmeg (optional)
19.71 ml butter
powdered sugar (to garnish)
Directions
Slather 1 side of each bread slice with cream cheese.
On 2 bread slices, arrange peaches accordion style; sprinkle peaches with sugar and nutmeg.
Close up the sandwiches.
Spread butter on 1 side of the bread.
Put butter side down in medium-hot frying pan.
Carefully butter top bread slices.
Toast on each side until bread is golden brown, 3-4 minutes per side.
Serve sprinkled with powdered sugar if desired.
Reviews
Most Helpful
I didn't really know what to expect with this recipe, but it sounded good so I tried it. SO glad I did, it's amazing!! What a fantastic sandwich idea!! It's slightly crunchy, soft and sweet all at once. It's just fantastic!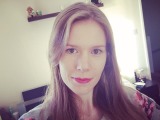 this is such a fun idea! i had a slightly squashed peach to get rid of and what a great way to do it! i was out of nutmeg, instead i used pumpkin pie spice. i have seen this done with apple, peaches are way better because you don't have to cook then first. this would also be a great idea for a dessert camping pie or in a toasted sandwich maker. thanks for sharing SusieQusie!