Rita1652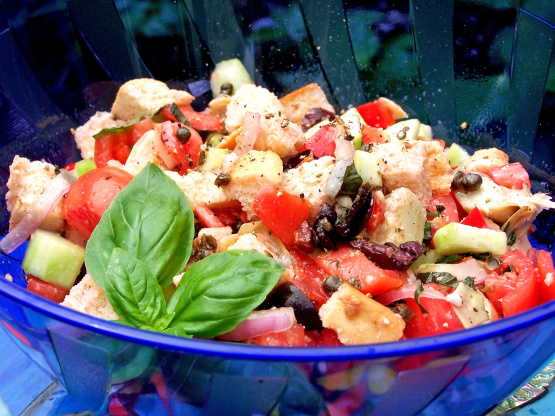 This is a bread salad that gets better as it sits. Cooking time includes allowing the finished salad to sit for 20 minutes to allow the flavors to develop. From VT July/August 2006.
1

small French bread, cut into 1-inch cubes (about 4 cups)
1⁄4 cup olive oil

3

garlic cloves, minced (1 tablespoon)
1 1⁄2 lbs fresh tomatoes, diced (about 3 1/2 cups)

1

medium cucumber, peeled, seeded, and diced (about 1 cup)

1

small red onion, thinly sliced (about 1/2 cup)
1⁄4 cup green olives, pitted and coarsely chopped
1⁄4 cup fresh basil, cut into thin ribbons

2

tablespoons red wine vinegar

2

teaspoons capers, drained and coarsely chopped

1

teaspoon sugar
1⁄2 teaspoon lemon zest
Preheat oven to 350°F
Spread bread cubes on baking sheet. Bake 15-20 minutes, or until golden brown.
In small saucepan, heat oil over med-low heat.
Add garlic and cook 2 minutes, or until fragrant.
Place all remaining ingredients in a large serving bowl. Add the cooked olive oil and garlic. Toss to coat.
Season to taste with salt and pepper.
Allow to stand at least 20 minutes, to allow the flavors to develop.
Adjust seasonings, if necessary, and serve.