Toasted Ham and Cheese Supreme
Catnip46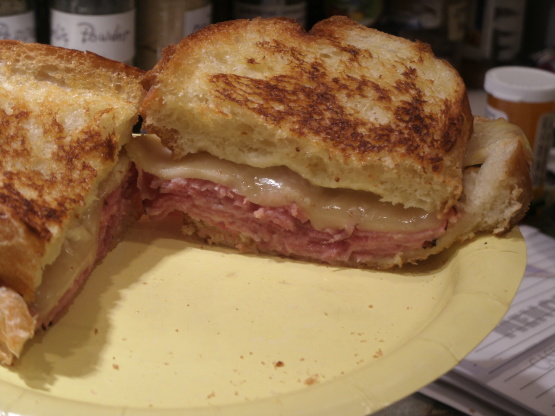 A step up from the usual grilled ham and cheese sandwiches, these are made with ham, cheddar cheese, red onion, horseradish sauce and mayonnaise. You can serve these flavorful sandwiches by themselves for lunch, or a simple dinner. For a heartier meal, serve them with steaming bowls of soup, stew or chili.

Absolutely delicious! I used slices of french bread and next time will try sour dough slices. The cheese of choice this time was Muenster but next time will try Provolone. The red onion and horseradish made the sandwich. It had just the right amount of zing to it. Yum! Made for Zaar Chef Alphabet Soup.
Spread four slices of bread with mayonnaise. Layer each with the ham, cheese and onion. Spread horseradish sauce on remaining bread; place bread with horseradish side down over onion. Spread butter on the outside of each sandwich.
In a large skillet over medium heat, toast sandwiches for 4 - 5 minutes on each side or until bread is lightly browned and cheese is melted.