Toasted Garlic Rice with Herbs and Lime
lazyme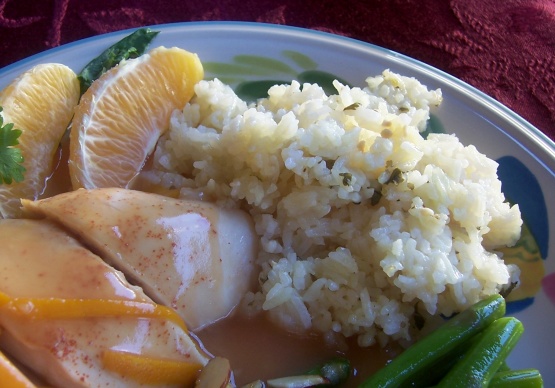 This is a recipe I have not tried, but looks good enough to serve to company! From Bon Appetit

This is a FANTASTIC recipe I had made for the first time on the 27th of last month:) Not a single grain of this remained. My picky brother made sure this becomes a regular on our table(It's another thing that I'm cheating on his orders), lol.. I did substitute the chicken stock with 'Maggi vegetable broth with onions' that I prepared by dissolving 2 cubes of the same in 4 cups of water and brought it to boil, then used as stated in the recipe. I did not have cilantro or parsley at home, unfortunately, so I used fresh corriander leaves and fresh celery instead. I used oregano(dried) for marjoram(as when I clicked on "marjoram", Zaar said that it's actually oregano! I was thrilled to read that because I had oregano on hand). My house was smelling of garlic from one end to the other, and mmm, boy it smelt incredible! I did not use any salt(as broth contains salt already) or pepper. This rice "has to" be served "hot" to be enjoyed best. I "loved" the taste of the garlic and oregano the most in this. "It is a meal on its own and a great one at that" is what my family and our guests commented.
Place rice in strainer.
Rinse under cold water until water runs clear.
Drain well.
Bring broth and lime juice to simmer in medium saucepan.
Heat oil in large saucepan over medium heat.
Add garlic; sauté until golden and sticky, about 1 minute.
Add rice; stir 2 minutes.
Add hot broth mixture and 3/4 teaspoon salt and bring to boil.
Reduce heat to low; cover.
Cook until rice is tender, about 25 minutes.
Turn off heat; let stand, covered, 10 minutes.
Add herbs and lime peel to rice; fluff with fork.
Season with additional salt, if desired.