Toasted Cream Cheese-And-Apple Pockets
Mandy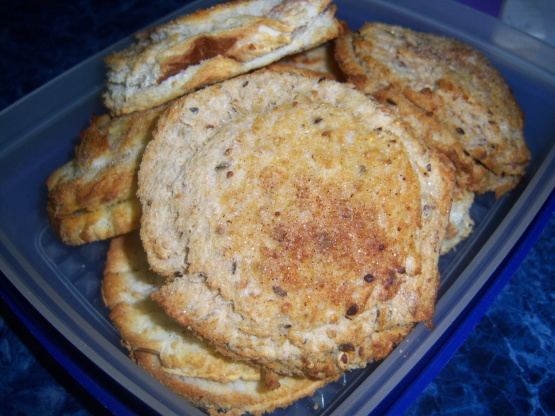 Toasted whole wheat bread pockets have a cinnamony crust and a surprise apple filling. Serve them warm or at room temperature.

Top Review by Mandy
What a great little snack to make..I always have extra bread on hand as my FIL works for a commercial bakery so this was a handy find. I used a red delicious apple & only half the amount of cream cheese & a little less sugar than called for. I cut mine big, basically the size of the bread slice minus the crusts and got 8 big "aaple pies". My 4 year old was most impressed and I enjoyed these too. Thanks for posting!
Preheat oven to 400°F Cut out centers of each bread slice with a 3-inch round cutter. (Reserve scraps for another use, if desired.) Place half of bread rounds on a lightly greased baking sheet.
Stir together cream cheese, apple, powdered sugar, and 1/8 tsp cinnamon until blended. Spoon about 1 tablespoon apple mixture onto center of each bread round on baking sheet; top with remaining bread rounds. Crimp edges with a fork to seal; brush tops with butter. Stir together remaining 1/8 teaspoon cinnamon and 2 tablespoons sugar; sprinkle over sandwiches.
Bake at 400°F for 8 to 10 minutes or until golden.
Note: Store any leftovers in an airtight container in the freezer for up to 1 month. To reheat for a quick afternoon snack, wrap each frozen sandwich in a paper towel and microwave at HIGH for 45 seconds or until warm.