Toasted Coconut-Banana Bread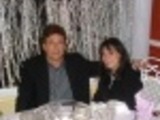 Finely shredded coconut adds a sweet crunch to this moist, flavorful bread. I have recently learned to appreciate the great texture and flavor that toasted coconut lends to a recipe, and this is a great take on banana bread.
Directions
Grease a 9-by-5-by-3-inch loaf pan; set aside. In a large mixing bowl stir together flour, sugar, baking powder, baking soda, and salt. Make a well in the center. In a medium mixing bowl combine beaten eggs, mashed bananas, oil, milk, and vanilla; mix well. Add egg mixture to flour mixture; stir just till combined. (The batter should be lumpy.) Fold in toasted coconut.
Pour batter into prepared loaf pan. Bake in a preheated 350 degrees F oven for 50 to 60 minutes, or till a toothpick inserted near the center comes out clean.
Cool in pan on a wire rack for 10 minutes. Remove from pan; cool thoroughly on a wire rack. Wrap and store overnight before slicing.
Reviews
Most Helpful
Yummy! I had some very overripe bananas to use up and this sounded like the perfect recipe. The bread was moist and delicious. We really loved the added chewiness from the toasted coconut. I made as written, except that I used 1/2 tsp. vanilla, 1/4 tsp. banana extract, and 1/4 tsp. coconut extract. I like to use these extracts to help boost the flavor of the bread. Thank you for sharing! **Made for 2013 Football Pool week #5**
A moist tasty bread that rose so much it hit the heating element in my little oven lol. The toasted coconut does add a delightful flavor and texture to this nice bread, which is not overly sweet but is sweet enough to be very satisfying. I made using 3 bananas and could not find canned coconut so toasted 3 ounces unsweetened coconut and used a very heaping ½ cup sugar to offset the not having sweetened coconut. Bottom line we liked and will be making again, thanks for the post.

I made this bread as two small loaves in parchment-lined mini loaf pans. Half of the granulated sugar was replaced with dark brown sugar and I also added 1/4 teaspoon of freshly grated nutmeg. Half of the banana was subbed with coconut milk to give a more tropical flavor. I used coconut oil for "cooking" oil and the final 10 minutes of baking garnished the top of the loaf with grated coconut. Enjoyed for teatime yesterday. Prepared for CQ3.