Toasted Chickpeas With Seasoning Options
Redsie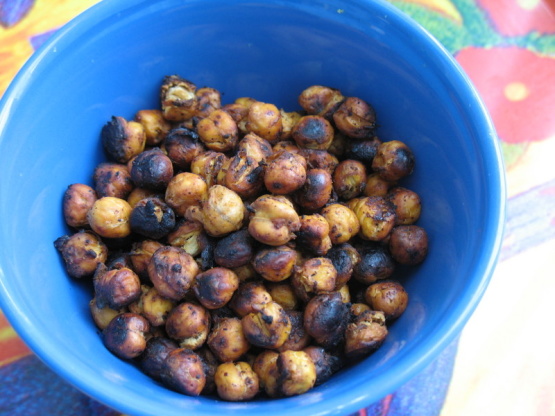 Wow, these were really good. I used I 15.5 oz can of chick peas, rinsed and dried with paper towel. I threw them in a zip lock bag with 1 tablespoon olive oil and 1 tablespoon taco seasoning. I cooked them at 425 for exactly 30 minutes; turning after 15 minutes. They came out very crispy and nutty tasting. I lightly salted them and ate them as a snack, but I think they'd be great in a salad, too. These were great and I'll make them again. Thanks, Anme, for posting!
2

cups canned chick-peas, patted dry

1

tablespoon olive oil

1

tablespoon taco seasoning or 1 tablespoon ranch dressing mix or 1 tablespoon French onion soup mix or 1 tablespoon Italian salad dressing mix
Preheat oven to 425°F.
Combine everything in a plastic bag and shake to coat.
place on a greased cookie sheet or pan and place in oven for 30-40 minutes stirring occasionally.