alligirl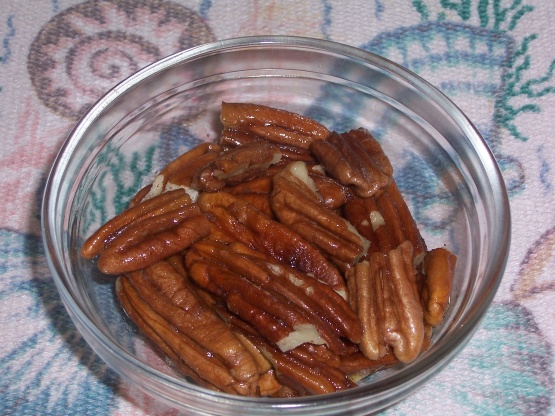 This recipe comes from the cookbook that accompanied my first microwave, in 1974. These salty, crunchy pecans are good for snacking. They also go well with drinks. You may want to adjust the amount of seasoned salt to your taste, particularly if you use salted butter.

It never occurred to me to put seasoned salt on pecans. I've always made sweet roasted pecans. I had extra coming out of the oven for another recipe and happened to see this one in the similar group at the bottom. I really like the salty Pecan flavor. I didn't measure, but just tossed some butter and sprinkled some salt until it suited my tastes. Thanks for sharing.
Put pecans in a 1½-quart microwave-safe casserole. Sprinkle with seasoned salt and arrange the four pieces of butter evenly.
Microwave on HIGH for 5-6 minutes or until pecans are crunchy.
Stir to distribute seasoned salt and butter. Serve warm or cold.