Toasted Almond Tiramisu (Lower in Fat Not in Flavor!)
Rita1652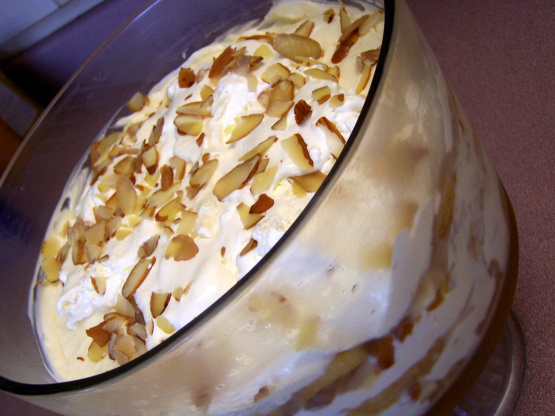 This Toasted Almond tiramisu is much lower in fat, no coffee, no raw eggs and is a no bake, easy to make, delish dessert. Soft ladyfingers can be found in the bakery or the frozen-food section of the supermarket.

Rita - thank you for this wonderful dessert. The taste is rich and very satisfying and I'm so glad to have discovered this low-fat/low-cal version of one of my favourite sweet treats!
Combine first 5 ingredients in a blender and blend till mixed.
Gently fold in whipped topping.
Chill.
Combine water, and Amaretto. Split ladyfingers in half lengthwise.
Arrange 1/3 of the ladyfinger halves, flat sides down, in a trifle bowl or large glass bowl. Drizzle with 1/3 of Amaretto/water mixture. Spread one-third of pudding mixture evenly over ladyfingers; sprinkle with 1/3 toasted almonds. Repeat layers, ending with toasted almonds. Cover and chill for 8 hours.
Enjoy!