Dawnab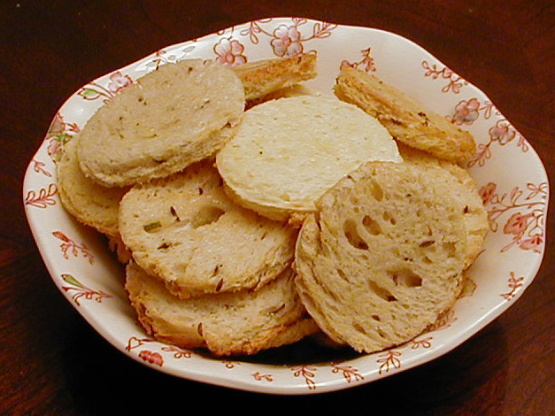 These little toasts are perfect for pate, spreads or for when you are out of crackers. Basic and elegant entertaining. Dress it up using different bread types. Add various spices that will compliment the food you are serving these with. This recipe is also a great way to use up stale bread and also makes a great snack in place of chips. The cooling racks allow the toast to cook evenly.
Preheat oven to 350°F.
Using a juice glass, cut circles out of the bread by using the glass inverted and pushing down and turning.
Using a pastry brush, spread a very, very tiny amount of mayo onto both sides of the bread circles and place onto a cooling rack. Lightly Sprinkle once side with garlic powder or your favorite spices.
Bake for 15 minutes or until VERY lightly browned.
Allow to cool completely, serve with cheese, pate or your favorite spread.