ALH7401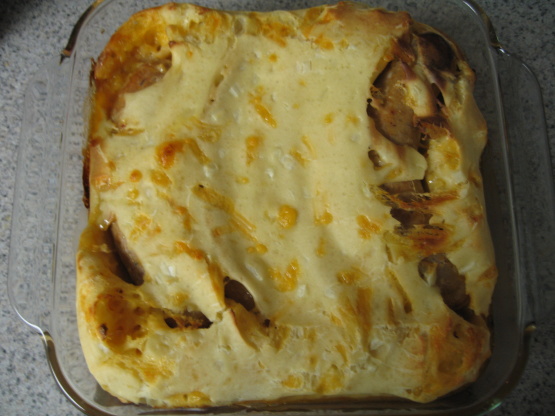 Found this in a 1970's Oscar Mayer Cookbook.

This was very nice. My husband is English and I cook Toad in the Hole quite often, but then the plain recipe. This batter was richer and softer. The onion and the cheese are great ingredients to add, but next time(and there will be a next time) I will increase the amount of cheese because that flavor did not come through enough.Thank you for this different Toad version!
Preheat oven to 400 degrees F.
Place sausages in an 8x8 square pan or baking dish.
Bake 20 minutes.
Combine other ingredients and beat well.
Remove sausages from oven and pour off all but 2 tablespoons drippings.
Arrange links around pan and pour batter over them.
Bake 30 minutes longer or until batter has risen to top of the pan and is golden.
Cut into squares and serve immediately with Dijon mustard.