To Your Very Good Health Rich Lentil Soup
Gatorbek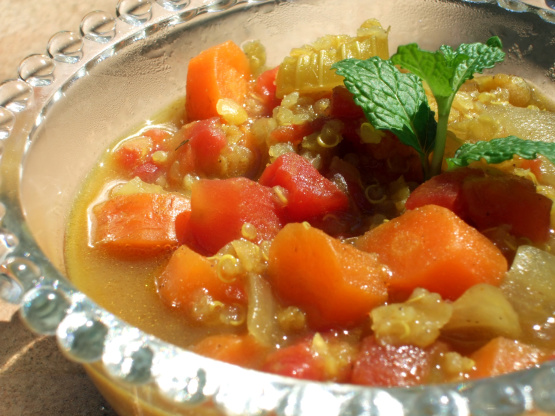 The soup is richly fragrant and nutritious, perfect as a complete meal. You can serve this over rice if desired. I made this tonight to try to coax my 3-yr old to eat something, after having his tonsils out a few days ago, and he ate about half a bowl, which at this point is a triumph! To your very good health!

This was very good! I made a half recipe, and added a bit more carrot and celery (personal preference), as well as using a can of tomatoes with green chilis to give it some kick. I did add some salt at the end, as I used homemake chicken stock without salt, and it was a great lunch on a brisk afternoon. Thanks!
Heat olive oil in a large soup pot, add onions, carrots, celery and garlic. Saute over medium heat until onions are clear and soft, about 10 minutes.
Add curry powder, mix well and cook another 1-2 minutes.
Add stock, coconut milk, and tomatoes. Stir well and cover pot, stirring intermittently.
When mixture starts to boil, add rinsed dal and quinoa, mix well.
Cover and return to a low boil, then lower heat to a simmer and cook, covered, while occasionally stirring, another 45-50 minutes.
Add salt and pepper to taste.
Serve as is, or over brown rice.