To Kill for Fudgy Brownies
Jurjen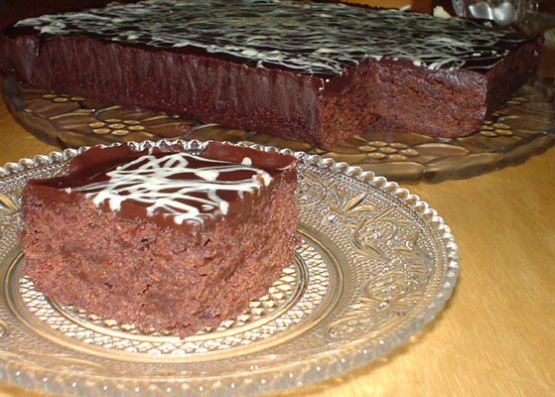 I was introduced to the original recipe for these while in college, back then they were called "to Die For Fudge Brownies" but I have since changed the name because while I was working as a caterer more people told me they'd kill for the recipe than I could count. I have tweaked it just a little over the years. These are the richest brownies... they are always a special request by my family and friends during times of stress or celebration. I always make sure I use the best quality chocolate I can afford, but have made it with store brand baking chips and it's still great. I like to cut them on the diagonal into diamond shapes for a special presentation. Warning: Do Not make these while you are PMSing unless you are prepared to be working out to burn off an entire pan of them for the next month. Yield depends on the size you cut them to.

maybe i did something wrong when i made these, but i found them to be pretty greasy from all of the butter, and could have used a touch more sugar for my taste. i dont like overly sweet brownies but these almost werent sweet enough. probably not the brownie recipe i will keep sorry
Make certain the oven rack is in the center position and preheat oven to 350°F.
Line 13x9x2-inch baking pan with aluminum foil so that the foil extends 2 inches beyond the two long sides of the pan and butter the bottom and sides of foiled pans.
In a medium pot combine the butter and sugars; cook until melted and very hot.
Sift together the salt and flour.
Chop the chocolates in a food processor and mix in the hot butter mixture until all the chocolate is melted.
Add eggs and vanilla- mix until combined.
Add flour-salt mixture and stir until just combined.
Add nuts if desired.
Scrape into prepared pan and smooth the top with a rubber spatula.
Bake 25- 30 minutes until a toothpick inserted 2 inches from the center comes out with a few moist crumbs clinging to it-- DO NOT OVERBAKE.
Cool brownies completely on a rack in the pan before lifting them out using the foil as handles.
If glazing do so now; allow the ganache to set a little before drizzling the melted white chocolate over top.
Peel off the foil and cut.