To Die for Spaghetti Carbonara by Tom Cruise
Nif_H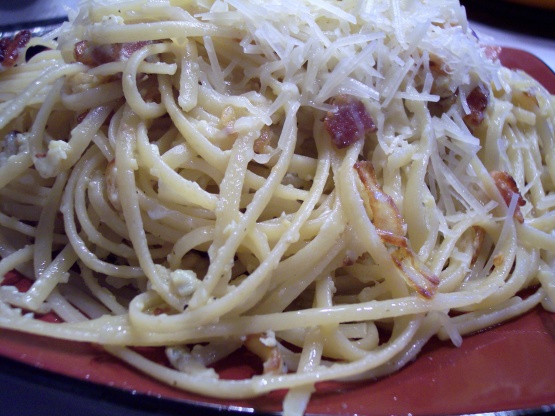 Adopted from Recipe Zaar. I haven't made this yet, but will shortly and make any alterations I think need to be made. Serving sizes will depend on how much spaghetti you make.

I made this for my husband [I am on a diet] who had never had spaghetti carbonara before. He likes all the ingredients but did not like the end result. He thought it was too dry, not creamy enough. I think its a personal preference thing though. He likes fettuccine alfredo a lot and thats more his type of thing.
Put 1/2 inch of olive oil in sauté pan.
Add 2 cloves (or more) chopped garlic, onion and bacon cut into small squares.
Let simmer 30 minutes, don't let mixture boil!
During last 10 minutes of simmering add crushed red pepper flakes if using (I used 1 teaspoon).
In bowl, beat 4 eggs with lots of salt and fresh ground pepper.
Cook spaghetti until al dente.
Drain and immediately add egg mixture to pasta. (The pasta needs to be real hot in order for the eggs to cook).
Stir until eggs are cooked.
Mix into sauté pan and finish with the grated cheese.
ENJOY!