To Die for Crock Pot Roast
SharonChen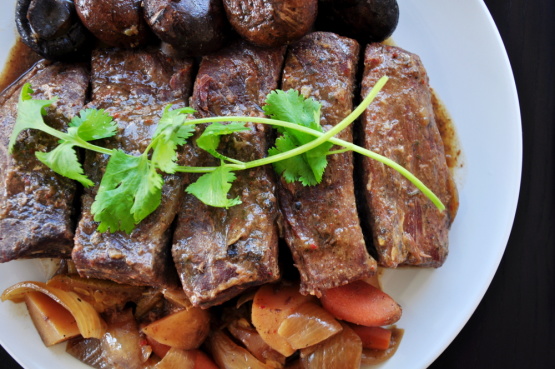 Amazing flavor, and so simple! No salt needed here. In fact, you may wish to use half the ranch dressing mix to cut back on the saltiness. Found this Crock-Pot pot roast recipe on of a website called www.recipegoldmine.com. It's all the rage there, so I thought I'd try it.

I bought a very cheap roast and stabbed it all over with a fork (just to make sure that it was dead). I used the mixed dry ingredients as a rub before sprinkling the rest over the meat. Like other people, I cut the dressing mix somewhat (but I did so to reduce the sodium content and not to alter the taste). Being a strong advocate of one-dish meals, especially for busy weeknights, I dumped my veggies (baby spuds, chopped rutabaga, baby carrots and pearl onions) in the crock and what a pleasant surprise! – the cooked veggies were the most delicious, savoury root veggies I have ever tasted. The taste of the veggies was more influenced, but most certainly not overpowered, by the dry ingredients than the beef was. All in all, this recipe surely deserves its place at the top of the pyramid.
1

(4 -5 lb) beef roast, any kind

1

(1 1/4 ounce) package brown gravy mix, dry

1

(1 1/4 ounce) package dried Italian salad dressing mix

1

(1 1/4 ounce) package ranch dressing mix, dry
1⁄2 cup water
Place beef roast in crock pot.
Mix the dried mixes together in a bowl and sprinkle over the roast.
Pour the water around the roast.
Cook on low for 7-9 hours.
Use onion soup mix instead of ranch.
Add one cup,of red wine.
Add potatoes,carrots,mushrooms,celery and onion 2-3 hours before end.