To Die for Crescent Rolls
Brenda.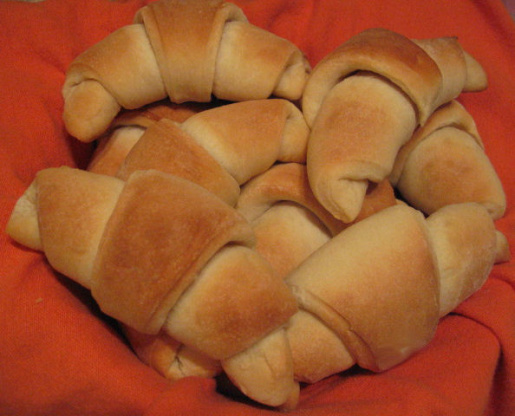 I really like the idea of being able to 'prepare' a yeast item the night before. These were just so easy to do, no fussing around. I found I had to postpone the baking the next day, so the dough was in the fridge for two nights... with no ill effects. Also, I only baked 1 'round' --with the other one going to bake tomorrow.

These are excellent! The only thing I would say is the recipe is a lot more complicated than it needs to be. I used 3 tsp. yeast and I made mine with canola oil instead of crisco and used room temp. water. I didn't beat the eggs and I just put everything in the bread maker on the dough cycle. There is no need to let rise overnight - a warm oven for about 1 hr. does great. I also forgot to spread with butter before rolling them - I'm glad I did, they are plenty rich without any extra butter :) I will make again and again!! Thanks for a great recipe!
**prepare the night before.
Put Crisco and salt in glass measuring cup.
add the 1 cup of boiling water.
stir till dissolved and becomes lukewarm.
Dissolve yeast in the warm water.
Beat the eggs with the sugar till well beaten.
Add the lukewarm Crisco mixture and the dissolved yeast.
Add 2 cups of flour, mix in well, then add the remaining flour, mix in well.
Add sufficient flour to make a'kneadable' dough, and knead it lightly till well mixed.
Put into a bowl (covered) overnite in the frig.
Cut the dough in half.
Roll into two 'rounds'-- 1/4 inch thickness.
Spread with soft butter, cut into pie shaped wedges and roll into 'crescents'.
Put on a parchment (or silpat) lined baking sheet and let rise till approximately double in size.
Bake at 375 degrees about 8- 10 minutes, until golden brown.