To Die for Chicken Pot Pie That's 100% Vegan and 99% Fat Free
SugarHATER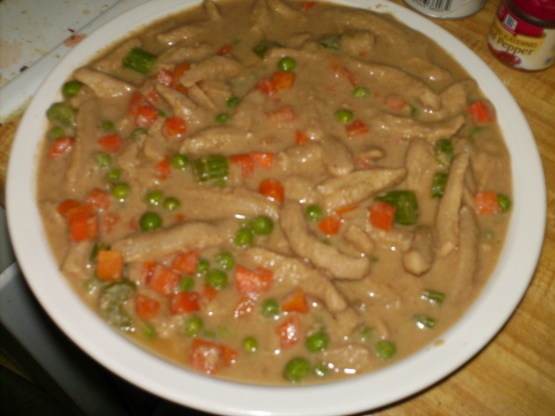 As you know REAL chicken pot pie is one of the absolute WORST foods you could EVER, ever eat. It's loaded with artery clogging Fat, and sooooo many calories - and it doesn't matter which frozen brand you buy - they're all just as bad. BUT - THIS RECIPE FOLKS IS THE SOLUTION! Yes - you can have your cake and eat it too. (or in this cake your pot pie) This recipe is SO LEAN, SO LOW IN CALORIES, but HIGH in VITAMINS, FLAVOR, FIBER, PROTEIN - you will NOT believe it's good for you. AND..... It tastes 1,000 times better than the heart-attack frozen versions in the freezer section. WHY THIS WORKS: I took out butter, cream, milk, and the horrible "All Purpose Flour" which is all basically poison. Sure, you might think those all taste great, but is 5 minutes of taste worth a 16 hour heart-bypass surgery? Why have the worry, and bad health when you can make this which tastes just as good and comes without the huge scar on your breast-bone. Oh, did I mention your jeans will still fit with this version too?

When starting to prepare this recipe, I noticed that this is not 100% vegan, so I used my own vegan additions, and they are as follows: I made my own vegan tortillas Recipe #69612 -and added vegan Worcestershire sauce (listed below). The bottom crust was a bit soggy, so I would suggest baking the bottom tortilla in the oven for about 5-6 minutes first, then putting the ingredients on top of this. This also bubbled over in the oven - so I made some slits in the tortillas, as I would in a regular pot-pie. I cannot in good conscious give this recipe anymore then one star - as it is not 100% vegan at all. When the recipe author changes the Lea&Perrins Worcestershire sauce to a vegan substitute, such as: "Annie's Natural's Worcestershire Sauce" or "Edward's & Son's" when writing the recipe, and takes out the La Toritilla Factory Tortillas (which include l-cysteine in their tortillas), and also include a vegan tortilla in the recipe I would love to re-rate. (Tortilla's are also MISSING in the ingredient list part of the recipe)
2

(6 ounce) packages vegetarian chicken strips, lightlife smart strips chick 'n style seasoned veggie strips meat free (has 0 grams of fat and 14 grams of protein)

2

cups peas and carrots
1⁄2 cup chopped celery
1⁄4 cup chopped red bell pepper (optional, for added vitamins and a sweeter taste)
1⁄4 cup sauted mixed mushrooms (I like crimini, which are tiny portobello mushroom, but whatever mushrooms you like, please use less)
1⁄3 cup chopped leek (or scallion or shallot)
1 1⁄3 cups vegetable stock (which has 0 grams of Fat)
1⁄4 cup white wine (totally optional)

1

teaspoon garlic salt

1

teaspoon fresh tarragon (optional as well)

1

teaspoon sage

1

teaspoon thyme

1

teaspoon white pepper (or black if you prefer)
2⁄3 cup soy flour (for a THICK gravy, if you like yours thinner, don't use all of this, just use enough until its the c)

2

teaspoons Worcestershire sauce
Mix vegan chicken, all the spice and veggies with 1 cup of veggie stock (and wine if you chose to use it) into a pan and cook on high heat for 5-10 minutes, until frozen veggies are soft.
Mix together soy flour, worcester sauce and the rest of veggie stock together until it looks like peanut butter. Then add to the cooked veggie mix.
Mix everything together, adding a little more soy flour if you'd like it thicker.
Line a pie dish with the low carb tortilla and pour the the entire contents into the pie dish.
Cover with a 2nd tortilla if desired to create a double crust pie shell effect.
Put into over at 400 degrees for about 25-30 minutes.
Set for 5 minutes.
Enjoy with no guilt!