To DIE for Chicken Marsala
Robert_L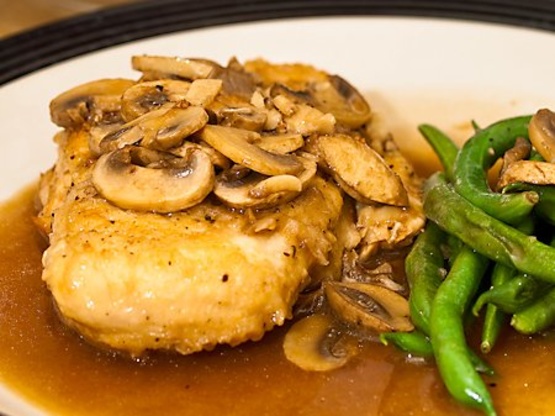 A MUST HAVE for anyone that loves Italian food. This is a extremely easy recipe and it is great for dinner parties or a romantic dinner with your Honey. Try it and let me know what you think! I buy pre-sliced mushrooms and pre-made broth and it really cuts down the time you spend preping.

This was very easy and tasty!! Very mild, not overpowering marsala taste. I only used 2 chicken breasts (they were huge) and used the full recipe for the sauce. It took close to 30 minutes for the sauce to reduce and never really thickned, so I added a thickening agent. Picky Hubby said it was a keeper!
Place chicken breasts between two pieces of plastic wrap.
With a meat tenderizing mallet, pound chicken breast until they are 1/4 inch thick.
Dredge breasts in flour until all sides are coated.
Heat olive oil in a large skillet or frying pan.
Cook breasts until almost done, about 3-4 minutes on each side.
Remove from pan being sure to keep warm.
(I put them in a small cake pan and place in a 200 degree oven) Deglaze pan with Marsala wine, making sure to scrape bottom of pan to loosen all browned bits that may be stuck on.
Add broth, mushrooms and garlic.
Cook on medium/high for 10 minutes or until reduced by half.
Add breasts back to pan and cook for another 10 minutes.
(Sauce should have reduced more and thickened some) Serve over angel hair pasta.