3 Reviews
Hubby and I had something very similar to this at a party but didn't get the recipe. I recently came across this while searching for a sangria recipe. This looks very similar to the ingredients the hostess stated was in their "fruit drink" except she used Ruby Red Grapefruit Crystal Light. I HATE sugar free items but you can't even tell this is made with Crystal Light. I did use reg Cranberry Juice and regular water instead of the club soda. I will make this often this summer. Thanks for posting this refreshing citrus-y drink!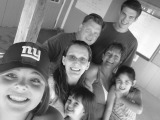 My son made this for his high school Spanish class, and misread the recipe to call for 2 oz of crystal light, instead of 1/2 oz. So, he originally used 4 tubs; just now made it with 3 and with lemons instead of limes. It was still great!
What a great punch recipe. I've made it at least four times this summer and it's only July 3rd. Everyone really enjoys it. The flavor is not too sweet and it's very refreshing; I wouldn't change a thing. It also doubles well and is so quick to put together. Thanks for sharing, Fluffster!
Tko Sangria Punch (Non-Alcoholic)