sheepdoc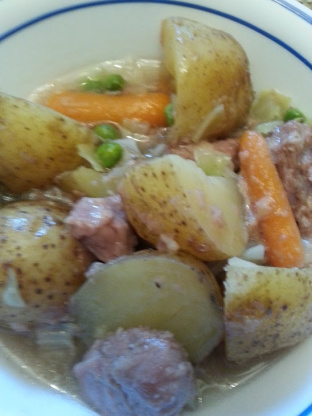 Traditional? Haven't a clue. Delicious? Yes. Please serve this with my posted Irish soda bread. Pick up some lamb bones, too while you're at the butchers and make your own lamb broth for this stew. From our local natural foods' store flyer-I added and subtracted a few ingredients. Mom insisted I add some fresh cabbage to this. Okay, Ma! Note that I've not tried this stew with the optional whiskey.
1 3⁄4 lbs organic boneless lamb shoulder, cut into 1-inch pieces (I had the butcher cut up the lamb for me)
1⁄2 cup flour, approximately

1

lb thin-skinned baby potatoes, divided

6

ounces baby carrots

2 -3

small parsnips, peeled and cut into 2 inch chunks

1

medium sweet onion, peeled and chopped

1

large garlic clove, finely minced
salt, to taste
pepper, to taste

2 -3

cups fresh lamb broth (or 2-3 cups unsalted chicken or beef broth)
1⁄2 cup green peas (if using frozen, thaw first)

2

cups cabbage, coarsely chopped

1

sprig fresh thyme, stems removed, minced

4

sprigs fresh parsley, stems removed, minced

Optional

2

ounces whiskey
Preheat oven to 325°F.
In a large bowl gently toss the lamb chunks with the flour to coat.
In a large Dutch oven with a tight fitting lid, arrange first the lamb, followed by half potatoes, carrots, parsnips, onion and garlic in layers. Finish the top layer with the remaining potatoes. Season each layer with salt and pepper.
Add broth (and whiskey if using), cover pot. Cook 2 to 2 1/2 hours until meat is tender and sauce thickened. DO NOT allow stew to dry out, adding stock as necessary!
The last 15 minutes of cooking, add the green peas and cabbage. Watch carefully, being sure that cabbage doesn't cook too long and become slimy.
Just before serving, garnish top of stew with the thyme and parsley.
FYI: For a thicker sauce, in a small bowl combine 2 tablespoons of arrowroot or cornstarch with 2 tablespoons of stock or water. Whisk, breaking up any lumps and stir into the casserole, incorporating well.