Tiropitakia (Miniature Greek Cheese Pies)
Thorsten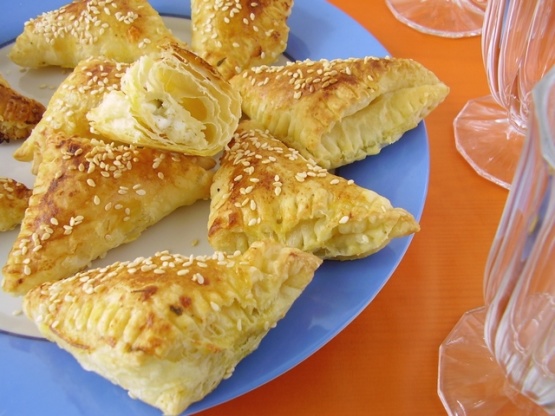 Small cheese pies to be served as a snack or hors d'ouevre.

Truly excellent! I doubled the recipe to use my whole pack of filo and have frozen 2/3rds. The texture of the filling was glorious. I used ricotta, swiss cheese and Australian Feta. I forgot the parsley and mint, but I cannot imagine these being any better really! We had these for dinner with veggies, but I can imagine them at a cocktail party, so cute and elegant.
Remove the filo pastry from the refrigerator and let stand at room temperature about 1 hour.
Make the filling by mashing the feta until it crumbles.
Add to this the eggs, Emmenthal cheese, ricotta, parsley, mint and pepper and blend well.
Cut each filo leaf into a strip 6 x 12" (15 x 30 cm).
Brush each leaf with the melted butter.
Fold the leaves in half lengthwise making strips 3 x l1" (6 x 30 cm).
Again brush with butter and place 1 Tbsp.
of the filling at the bottom of each leaf.
Fold over to form a triangle (like you were folding a flag) and continue folding until the strip is completed.
Repeat with each of the strips and place the completed triangles on a well greased cookie sheet.
Preheat oven to 375 degrees F.
Brush the tops of each triangle with butter and then with a mixture of the egg yolk and 2 Tbsp of water.
Sprinkle over with the sesame seeds and bake in a medium oven until the pastries are golden brown and flaky (about 20- 30 minutes).
Serve hot or cool.
Yields 16- 24 pastries.