Pamela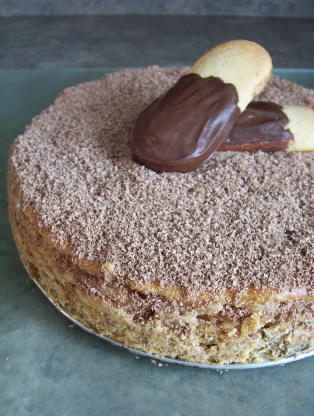 I made this for a special dessert event at our church. Yummy!

I made this for an Italian-themed evening. It received rave reviews! A lot people thought it was a regular cheesecake and thought some fruit on top would be really good with it. The coffee flavour was very, very mild. I used coffee liqueur and not the espresso. next time i will dilute some instant coffee in with the liqueur. It was a good cheesecake-very easy to make! It's definately worth making again! Thanks alot!
Preheat oven to 350°F Place a pan or baking dish filled with about an inch of water on the bottom of oven rack.
Using a food processor or blender, process the package of ladyfingers to fine crumbs.
In a small bowl, melt the butter, add 2 T. of the coffee flavored liqueur or espresso and add the crumbs. Mix to moisten the crumbs. Press the crumb mixture into an 8 or 9 inch springform pan.
In a large bowl, mix cream cheese, mascarpone cheese, and sugar until very smooth. Add 2 tablespoons coffee flavored liqueur or espresso, and mix. Add the eggs and the flour and mix on slow speed until just smooth. The consistency of the mascarpone can vary sometimes making your batter to thick -- if this is the case add about a teaspoon to a tablespoon of cream. Pour batter into crust and place on the middle rack of the oven.
Bake at 350°F for 45 to 60 minutes, or until just set.
Let cool by opening the oven door with the heat off for about 20 minutes. Let the cake continue to cool and then refrigerate for at least 3 hours, or overnight, before serving.
Enjoy with shaved chocolate or cocoa powder on top, it also helps to cover the mistake if the top cracks during baking :).