Tipsy Fat-Free Microwave -Sauteed Mushrooms
lazyme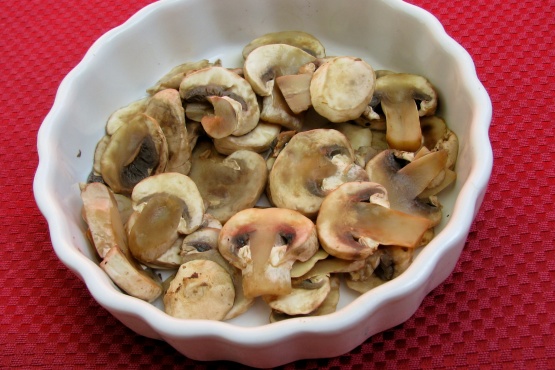 I am sharing my kitchen secret with you. I first read the small paragraph in Barbara Kafka's Microwave Gourmet about the possibilities of achieving "sauteed" mushrooms quickly in the microwave without a drop of butter. Then I began preparing my Portabello mushrooms this way to top my signature pizza (have you ever noticed that if you pile a lot of toppings on a pizza, it's hard to cook everything through?). I admit I use dry sherry almost as much as I use olive oil! One giant Portabello mushroom (5"-6" diameter) yielded 2 cups raw mushroom slice halves, which yielded 1 cup "sauteed" mushrooms for my pizza. These would also make a wonderful accompaniment to steaks or burgers, or omelets, or on other veggies...

When I made these tonight, the mushrooms weren't done after 3 minutes (and I needed the microwave) so I finished them off on the stove. The flavor was ok, but a lacking in something. Simple solution, we added some garlic salt and pepper. The texture is a little off. We'd prefer them sauteed on the stove, but these are good for when you are in a hurry.
If using giant Portabello mushrooms, please halve each mushroom slice.
Place sliced mushrooms in microwave-safe pasta dish.
Pour dry sherry or red wine over mushrooms. Cover loosely with wax paper.
Microwave 2 1/2 to 3 minutes, until "sauteed.".
Drain before using.