Rita1652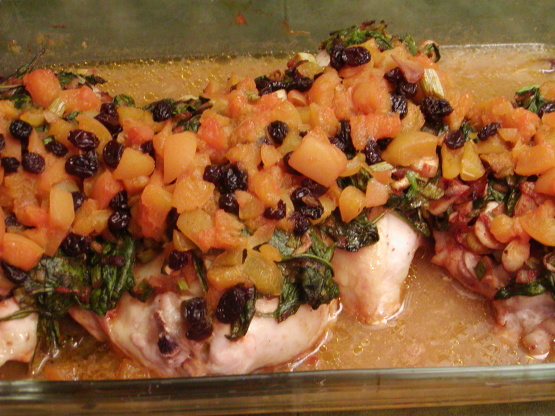 This is my take on an old low country recipe for chicken. I make it with chicken breasts. The more traditional recipe calls for chicken thighs. All versions require bourbon. When they're in season, peaches can be substituted for the apricots. If you can find a jalepeno with heat, that can sub for the cayenne.

Ooo is this good! I made with chicken thighs as I prefer dark meat (I used 8 thighs and left other amounts the same). I couldn't decide between cayenne & paprika so I used 1/2 tsp of each which worked well. Also, when I seasoned the chicken, I lifted up the skin and s&p'ed underneath. Thanks for a delicious recipe - will make again for sure!
4

chicken breast halves, skin on, bone in
1⁄2 teaspoon coarse salt
1⁄4 teaspoon fresh ground pepper

2

tablespoons sweet butter

1

large onion, chopped fine

1

small cayenne pepper, chopped (if it's old, it's not real anymore) or 1 teaspoon cayenne pepper (if it's old, it's not real anymore) or 1 teaspoon paprika (if it's old, it's not real anymore)

3

garlic cloves, chopped fine
1 1⁄2 cups scallions (chopped, green and white parts)

1

bunch Baby Spinach, stemmed and washed (roughly one pound)
1⁄4 cup fresh orange juice
1⁄4 cup fresh lemon juice
1⁄2 cup Bourbon

1

cup fresh apricot, peeled and chopped
1⁄4 cup raisins
1⁄4 teaspoon nutmeg, preferably fresh grated
Preheat oven to 400°F.
Salt and pepper chicken and place in 13" x 9" baking pan and set aside.
In a large skillet, melt butter over medium heat.
Add onion and cook, stirring occasionally for at least five minutes.
Add garlic, pepper (or paprika) and all but 2 tablespoons of the scallions.
Saute for an additional three minutes.
Add the spinach and stir to combine.
Saute for two minutes or until spinach is wilted.
Spread onion/spinach mixture over chicken in baking dish.
Gently pour lemon, orange juice and 2 tablespoons of bourbon over the chicken.
Bake for 30 minutes.
While chicken is baking, combine apricots, raisins and remaining bourbon in a small saucepan.
Simmer for three to five minutes.
When the chicken has been baking for thirty minutes, remove from oven and spoon apricot mixture over the top.
Sprinkle with fresh grated nutmeg and return to the oven for another 10 to 20 minutes.
Serve garnished with remaining sliced scallions.