Tipsy Cake (Trifle) - 1950's
katew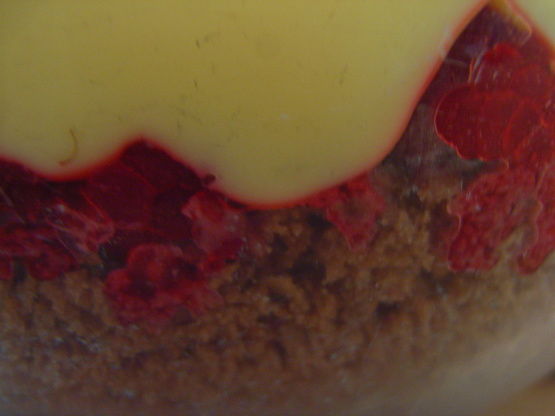 From a feature of recipes through the ages in our state paper. Times and servings are estimated. What FC calls Jello we call Jelly and it is usually sold in 2 x 9 gram sachets to a packet.

Top Review by katew
I made a rustic version of this today for a sick child craving something custardy so mine did not have all the layers. I used a layer of raspberries instead of the jelly as I am not a gelatine eater. The custard cooking method was excellent and worked well. My cake was leftover chocolate cake and the patient was wanting a serve before the custard had even cooled properly. DD has given this 5 stars or more.
Place the milk and cream into a bowl and set over simmering water and heat until just on the cusp of boiling.
Meanwhile whisk together eggs, sugar, cornflour and vanilla.
Pour hot milk on to the eggs and whisk well.
Return the bowl to the soft heat of the simmering water and stir constantlyu, but gently for 3 to 4 minutes.
The custard is ready when it has thickened to a smooth, velvety consistency, do not allow it to boil, remove from the heat and place a piece of cling film on the surgace of the custard to stop a skin forming and chill until required.
To assemble the trifle, using a retty bowl (cut crystal for preference) arrange sponge cake in the base and sprinkle with brandy, then top with half the cherries and a thin layer of cream.
Form another thin layer of cake cubes, sprinkle with brandy, then top with jelly and half the custard.
Add to the custard the remaining cherries, another splash of brandy and top with any remaining custard and cream.
Decorate with cubes of cut jelly.