Tippaleivät - May Day Fritters
Brenda.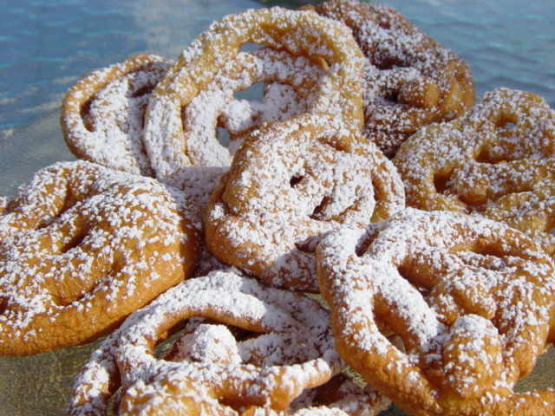 A traditional Finnish dessert of festivals and celebrations. The Tippaleivät is a round ball version of the American funnel cakes. The use of a medal collar will aid in the ball shape when making these fritters.
Mix the eggs and sugar, but don't beat! Add the other ingredients and stir into a smooth batter.
Put the batter into a paper cone or a pastry bag fitted with a small-holed nozzle.
Squeeze the batter in a thin band into the hot oil. Use a spiral motion to form nest-like cookies. If possible, use a metal ring in the pot to keep the cookies in shape.
When the cookies have turned golden brown, remove and drain them on paper towels.
Dust the cold cookies with powdered sugar.