Diana 2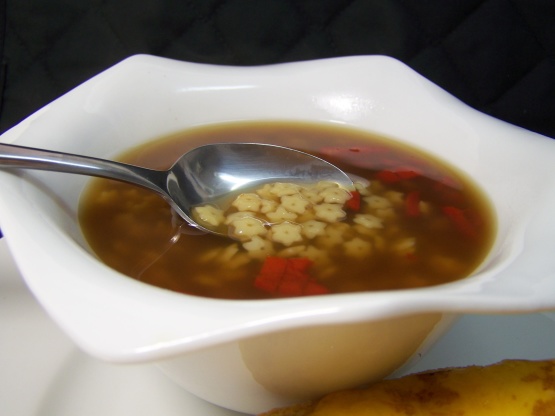 In Italy this soup is often served with bread for a light supper. Hand round a bowl of grated Parmesan cheese for sprinkling on top. From the book "400 Soups" and posted for ZWT5.

Made for your Football Pool win, soothing hot beverages & soups have been my most freq go-to options while I've been fighting a cold w/bronchitis since returning from an extended trip to the U.S. I used couscous for the sml pasta & it was certainly an easy fix that provided the soothing comfort I was after. Congrats on your win & thx for helping me feel better. :-)
1182.95

ml beef stock

177.44

ml small soup pasta, such as stellette

56.69

g roasted red peppers (bottled)
kosher sea salt
grated parmesan cheese, to serve
Bring the beef stock to a boil in a large saucepan.
Add salt and pepper to taste, then drop in the soup pasta.
Stir well and bring the stock back to a boil. Lower the heat to a simmer and cook 7 to 8 minutes, or according to the packet instructions, until the pasta is al dente.
Stir often during cooking to prevent the pasta shapes from sticking together.
Drain the pieces of bottled roasted pepper and dice them finely; add to the soup pot.
Taste the soup and adjust the seasoning.
Ladle into individual soup bowls and serve immediately, with grated Parmesan cheese for topping.