MasakoHI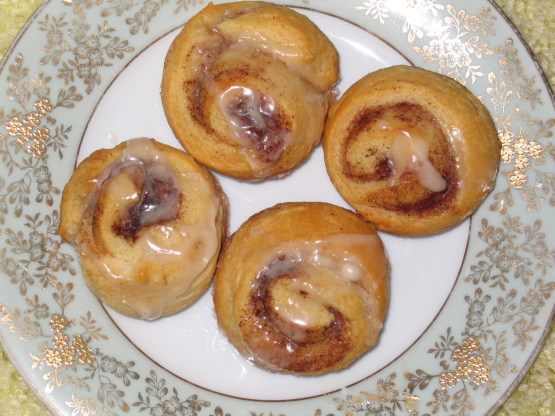 Southern Living. My kids adore these tiny little treats. We have fun making them together.

I started with 3 tubes of crescent rolls. Cut each of the rolled up cinnamon rolls in 3 pieces. I then put them in a 13x9 baking pan. They were probably bigger than the original ones. But! That didn't make them last any longer!! These can vanish right before your eyes! They were absolutely yummy!! Such an easy way to get such a great treat! Thanks Nurse Di, these will be a regular here.
Unroll dough, and separate into 4 rectangles; pinch seams together.
Stir together sugar and cinnamon; sprinkle evenly over rectangles.
Roll up jellyroll fashion, starting with a long side; press edges to seal.
Cut each log into 5 slices and place slices, cut side down in a lightly greased 8-inch round cakepan.
Bake at 350 degrees for 12 minutes.
Stir together powdered sugar, milk, and vanilla in a small bowl until smooth; drizzle over warm rolls.