Pamela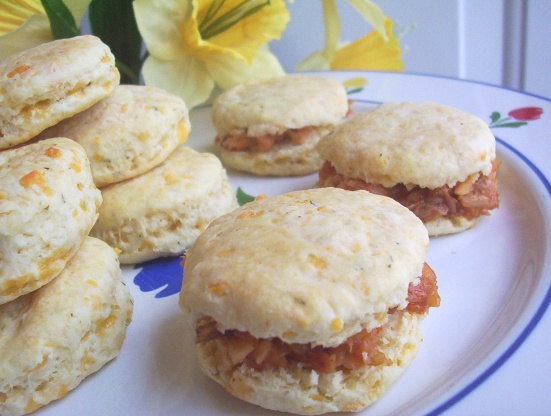 These little gems were being demonstrated at a local bulk food store - the are wonderful . To serve slice them in half and fill with some ham spread, smoked salmon or a bite of sausage - use your imagination They can be frozen

These were superb! Pretty, delicately golden, tall and light. I'm not fond of dill so I substituted marjoram. I found I only needed 3/4 cup of water, so I recommend adding the water incrementally. I made tiny 1" rounds and got about 75 biscuits. They were easily separated into halves and then spread with ham salad. The tops were replaced and the result was the cutest little mouthful of yum! There were no leftovers.
Combine all the dry ingredients in a bowl.
Add the water and mix in lightly.
Knead on a board 4 or 5 times.
Pat down to 1/2" thickness.
Cut out small circles 1" to 1 1/2" (I used a campange flute).
Bake on a lightly sprayed cookie sheet or line with parchment paper.
Bake in a 425F oven for 10-12 minutes or until golden.