Tink's Crunchy Panko Chicken
Debbwl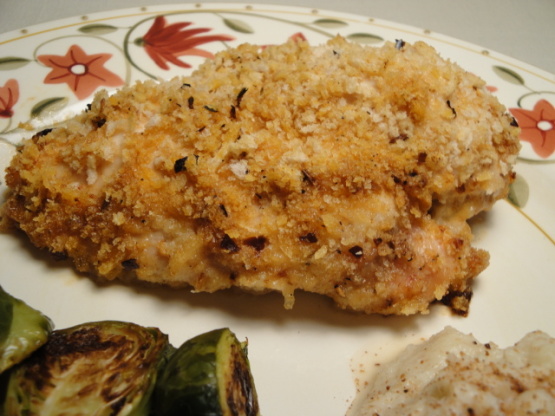 Inspired by the RSC #15 contest and it's secret ingredients, this chicken came out fabulous & my family has requested it nightly since I made it. Unfortunately, they didn't like the sauce I created to go with it so the recipe never made it to the contest entry stage. We like to eat this chicken with some cooked pasta and spaghetti sauce. They say it tastes like KFC, and while I don't agree, it does have a similar texture and a great flavor. Thanks to the first two reviewers' comments that garlic powder would be a nice addition, I've added it to the recipe as well. :)
I am making this for dinner again tonight! My picky husband requested it as I have made it several other times and it always turns out delicious! The only change that I made was to sprinkle a little melted butter on top just before baking. Best way that I have found to make boneless, skinless chicken thighs! Thanks for the great recipe.
Preheat oven to 375°F.
Line a 9x13 baking dish with aluminum foil and spray foil with non-stick cooking spray. Set aside.
Trim fat from thighs, if needed, rinse and pat dry. Set aside.
In pie plate or similar sized dish, combine Panko crumbs, flour, garlic powder, crushed red pepper, salt and pepper.
In second pie plate or dish, combine mayo and smoked paprika.
Coat each chicken thigh with a light to medium coat of the mayo mixture and then roll in Panko mixture.
Arrange in the prepared baking dish with a little space between each piece of chicken, if possible.
Bake uncovered for about 30-40 minutes or until the chicken is no longer pink and the juices run clear.