Parsley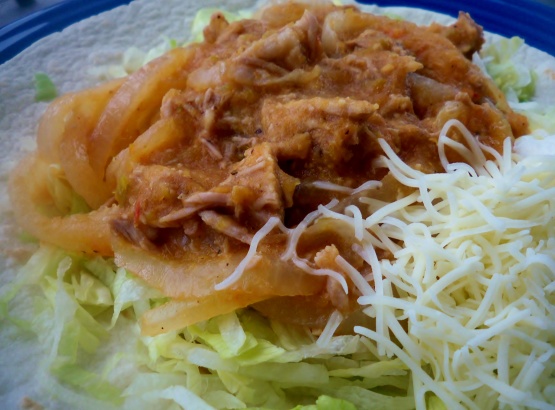 After you taste this you will never go to another so-called "authentic Mexican restaurant" again!! Note, the prep time does not include cooking the shredded meat which can be done a day or more ahead.

This was incredible, Robin. I used 2 chipotle chiles because I didn't want this to get too hot but wanted enough so you knew they were in there. I only sliced up 3 real large onions because that seemed like plenty to me and they were nice and spicy after I added the puree. I used chicken as the meat. I layered the ingredients per your instructions. This got a big WOW reaction from me and my husband. We are having some friends over this weekend and we are going to cook Mexican, so you bet this will be on the menu. Thanks for sharing your recipe.
In large sauce pan wilt the 5-6 sliced onions in the oil until very soft, but not brown.
About 10-15 minutes meanwhile in blender add as many chipotle chiles as you dare (when making it for my husband I add the whole can) and add lots of the adobo from the can as it adds tons of flavor but almost no heat.
To the chiles add the tomatoes, chopped onion, garlic, bullion, and salt blend until smooth.
Add puree to onions and cook about 5 minutes.
Add shredded meat (to make the shredded meat I boil a chuck roast, or pork roast for several hours in salted water until very tender and then shred-the chicken I just boil until cooked through and no longer pink, if cooked too long it will become mushy) stir entire mixture and cook until warmed through 1-2 minutes.
To eat take a tostada and spread with sour cream.
Sprinkle on some parmesan cheese if desired.
Add shredded lettuce and top with tinga mixture.
Bite!
Serve with several napkins on the side.