Annie H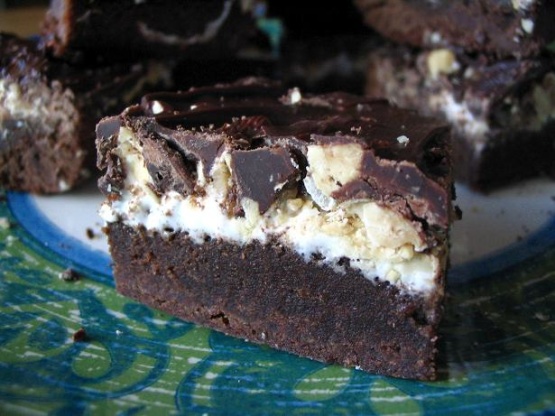 This is my variation of a recipe I found online. It doesn't really taste a whole lot like Tin Roof Sundae icecream, but they follow the same general idea. These brownies are very rich.

Great recipe! My batch turned out delicious, although my marshmallow cream didn't really puff up as much as the picture shows. Other than that, I had no other problems with the baking. I even left the brownies in the fridge all night long, so the melted chocolate hardened into a nice, crunchy top layer; however, next time around I don't think I will spread the melted chocolate quite as much. Thanks for sharing! I will be making this one in the future!
Heat oven to 325° and prepare an 8x8" glass pan with cooking spray.
Place eggs, butter, and vanilla in a small mixing bowl. Mix on medium speed for 1 minute. Add brownie mix all at once. Mix on medium/low speed until thoroughly incoporated (mixture will be very thick).
Spread brownie mixute into prepared pan, and place in the oven. Bake for 30 mins, or until a toothpick tests clean. Do NOT overcook brownies. This is a fudgey brownie recipe, and if they are overcooked the bottom will be very tough.
Turn oven off and as soon as you take the brownies out, spread the marshmallow cream on top. Sprinkle peanuts evenly over the cream, and sprinkle chocolate chips over the nuts. Put back in the oven until chocolate is melted (note: chocolate chips don't change their shape as they melt, so watch for them to become glossy). Remove pan from oven and spread chocolate evenly over the nuts.
Chill. When ready to serve, remove from fridge and let stand at room temperature for 20 minutes before cutting.
Note: the chilling the brownies is an issue of preference. The texture of the final product is far too gooey while it's still warm. Chilling and bringing to room temperature keeps things firm and makes cutting them more clean.
Variations:.
Instead of marshmallow cream: caramel ice cream topping (which does not become firm when chilled), crunchy peanut butter, toffee bits, mini marshmallows, coconut flakes.
Instead of chocolate chips: peanut butter chips, cinnamon chips (these will make this dessert very sweet).
Instead of peanuts: chopped walnuts, pecans, almonds, candied cherries.