Chipfo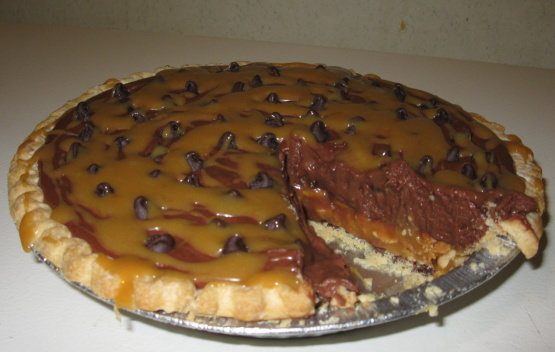 This is a really good one!! Decadent!! Not as hard to make as it may look. Just follow the steps. Cook time is for chilling.

Rich and yummy good! You definately need a deep dish for this one! I used chopped pecans instead of the peanuts, as I like them better. Winner of a recipe here folks!
In small heavy saucepan, heat chocolate chips and butter, stirring until smooth.
Spread over bottom of baked crust.
Chill.
In next small saucepan, cook and stir caramels and cream until smooth.
Add peanuts; spoon into crust.
In medium saucepan, combine milk, chocolate chips and marshmallows.
Cook and stir on low until smooth.
Remove from heat; add vanilla.
Set aside to cool.
Beat the 1 cup cream to soft peaks.
Fold into the cooled chocolate mixture.
Spoon into crust.
Chill until set.
When serving, melt the 3 caramels with the cream and butter.
Let cool slightly.
Top each serving with caramel mixture, whipped cream and a few chocolate chips.