Tin Foil Red Potatoes and Onions
Prep 15 mins
Cook 30 mins
My uncle uses a tin foil pouch and fills it with potatoes, onions, and adobo seasoning...then he cooks it on the grill. I used the tin foil part of his recipe and used an oven and different seasoning instead. Please be careful when opening up the tin foil when it comes out of the oven. Steam shoots out!
4 red potatoes
1 medium white onion
2 tablespoons olive oil (or enough to evenly coat all onions and potatoes)
all purpose Greek seasoning (I found it at walmart...rosemary, oregano, and thyme work well too)
3 sheets aluminum foil
cookie baking sheet
Directions
Pre-heat oven to 400 degrees.
Slice red potatoes so they are about an 1/2 inch thick.*.
Chop onions into large peices.
Put the olive oil into a bowl.
Put all of the onions and potatoes into the bowl with olive oil.
Stir the veggies (preferably with a slotted spoon) until they are all equally coated with olive oil.
Take the cookie sheet and place some tin foil on the sheet.
Make a cross with two sheets of tin foil on the foil covered cookie sheet (make sure you have enough foil to create a pouch for your potatoes and onions).
**I think Reynolds sells pre made aluminum foil pouches -- I didn't have them handy but my homemade pouch worked fine.**.
Transfer the onions and potatoes to the center of the tin foil cross, making sure to drain the excess olive oil (why the slotted spoon comes in handy!).
When you have all the veggies in the middle sprinkle your seasoning mixture on the potatoes, putting as much on as you like.
After seasoning, take all four sides of the tin foil cross and bring them up and into the center, making a little pouch for the potatoes and onions to cook inches.
Place in a 400 degree oven for 30 minutes.
Potatoes will be done when you can stick a fork through a potato without resistance.
*Adjust cooking time to fit the size of the potatoes you want.
Reviews
Most Helpful
I used to make this in a camp fire when camping & it was always a big hit!!! This time I used a covered cassarole dish...45 minutes @ 350°. Turned out PERFECT!!! THANKS for reminding me!!!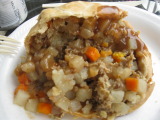 These were very yummy....I threw them all in a big foil pan and baked in oven...
I have been making this for years. We use any combination of veggies. Cauliflower and carrots along with the pototoes and onion are our favorites.