guacgurl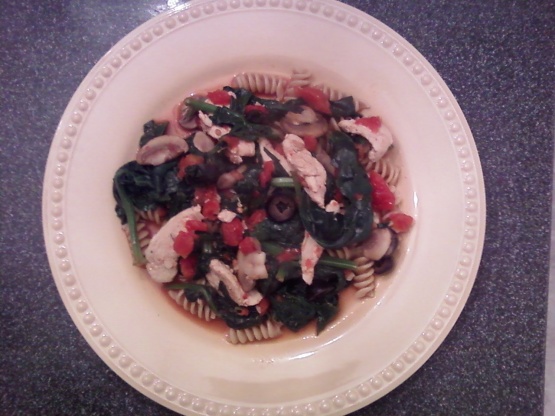 This is an easy dish that tastes as good as it looks! The green spinach is a nice contrast to the black olives and red diced tomatoes; 2 staples I always keep on hand.
Cook pasta according to package directions.
Season chicken with salt and pepper. In large saute pan, heat 1 TBS olive oil. When hot, add chicken and stir-fry for 1 - 2 minutes (do not cook all the way through).
Remove chicken from pan and heat remaining 1/2 TBS olive oil.
When hot, add garlic and cook, stirring, for about 30 seconds. Add red pepper flakes and cook, stirring, for an additional 30 seconds. Remove mixture from pan.
Add mushrooms and cook, stirring, until they begin to release liquid.
Add chicken, tomatoes, olives and garlic mixture; bring to a simmer. Add spinach and cover; simmer until spinach is wilted.
Serve 1 heaping cup of chicken mixture over 2 oz pasta.