Timman Z'affaran (Iraqi Saffron Rice With Meat)
COOKGIRl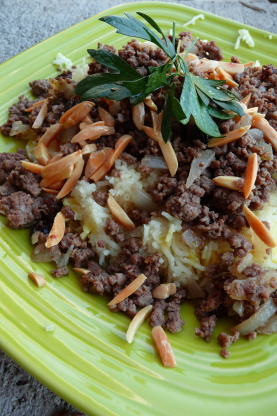 There are similar recipes on Zaar but this is our absolute favorite version. It is a very delicious Iraqi rice dish that can be served as a bed of rice for other dishes such as Saudi Chicken Stuffed With Rice & Meat (Dajaj Mashwy) or roast lamb or as part of a buffet. DH asks for this at least once a week as a whole meal with yogurt and a fresh salad! You could add frozen peas near the end of the rice's cooking time if you like. I have also since added some tomato paste after cooking the spices into the meat mixture and cooking it a little longer then adding to the rice before cooking or separately after for another delicious variation on this dish that I tend to leave the rasins out of. Original recipe from, The Complete Middle East Cookbook by Tess Mallos.

This is DELICIOUS ~ DH and I loved it! Great flavor and the raisins add a bit of sweetness. I used FrenchTart's recipe for recipe#205185 instead of the baharat spice blend, and it was wonderful. Thanks for posting Ummbinat ~ I'm so glad I tried this. Made for ZWT6 ~ NA*ME Region and the Queens of Quisine!
Wash rice until water runs clear.
Cover with cold water and leave to soak for 30 minutes.
Pound saffron threads, place in a small bowl (I use an Arabic coffee cup, which is perfect size for this) and add the rose water, leaving to steep until required.
Heat half the oil or ghee in a frying pan (this part tastes better with ghee or butter), add the almonds and fry until becoming golden making sure not to burn them by watching them until done.
Remove to a plate with a slotted spoon and reserve.
Add onion to pan and fry gently until transparent.
Increase heat, add meat and cook, stirring often to make meat crumbly. Fry until the juices evaporate, add baharat (Recipe #79179), 1/2 tsp salt and raisins and fry for 1 minute longer. Remove pan from heat, cover and leave aside.
Heat remaining oil or ghee in a deep large bottomed pot and add 2 tsp of the saffron-rosewater mixture and the chicken stock. Bring to a boil.
Drain the rice and add it to the boiling stock with salt to taste. Stir occasionally until rice returns to a boil.
Reduce heat to low and cover pan tightly. Simmer gently until rice is done.
Fold the meat mixture gently through the rice, cover rim of the pan with two paper towels and set lid on tightly. Leave on low heat for 5 minutes or longer if necessary. Rice should not spoil, though this depends on its quality.
Pile rice in serving dish or platter and sprinkle with browned almonds and the rest of the saffron-rosewater. This is excellent served with Recipe #384628 or roast lamb or as part of a buffet.