Time for Thai Grilled Fish With Chili-Lime Sauce
JustJanS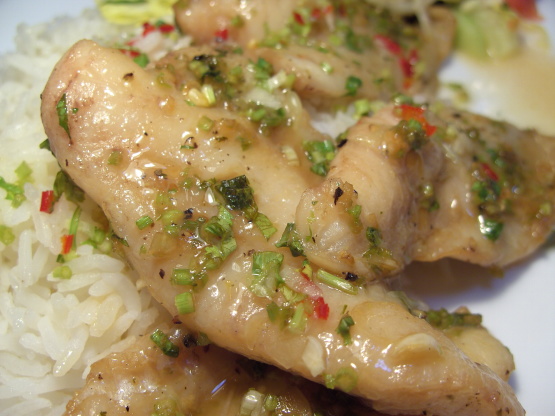 This was in my clipping stash which I am trying to clean out. Salmon is not traditional Thai but with the typical Thai seasonings, it should fit right in. The sauce is optional but sounds delicious. I am always looking for fish recipes as we try to incorporate 2 to 3 servings a week.

Am I glad you posted this from your clippings to here-this was so, so good. We made a half recipe of the marinade and a double recipe of the dressing so we could spoon it over rice. It was a sensational combo. I reduced the tablespoon of oil in the half mix of marinade to two teaspoons and would just put in one teaspoon or none next time we make this. We are currently eating fresh fish every second day as we catch it and this has been another amazing find in my quest to keep the fish meals interesting. This one will definately be repeated.
Marinade:.
Combine garlic, cilantro, fish sauce, soy sauce, sugar, salt, pepper, and oil in a food processor or blender and grind to a smooth paste. Transfer to a large zip-lock bag and add fish fillets. Turn gently to season well. Set aside for 30 minutes, or refrigerate up to 1 day.
Sauce: Combine sauce ingredients in a small bowl, stirring to dissolve sugar. Sprinle with chili and cilantro and set aside.
Coat a grill rack with cooking spray and preheat, or lightly oil a shallow baking pan and preheat oven to 425 degrees. Remove fish from marinade and cook until done, turing once, about 5 minutes per side.
Arrange on serving platter along with a small bowl of sauce, if using, to spoon over the fish. Serve hot or warm.